Making modern Medallions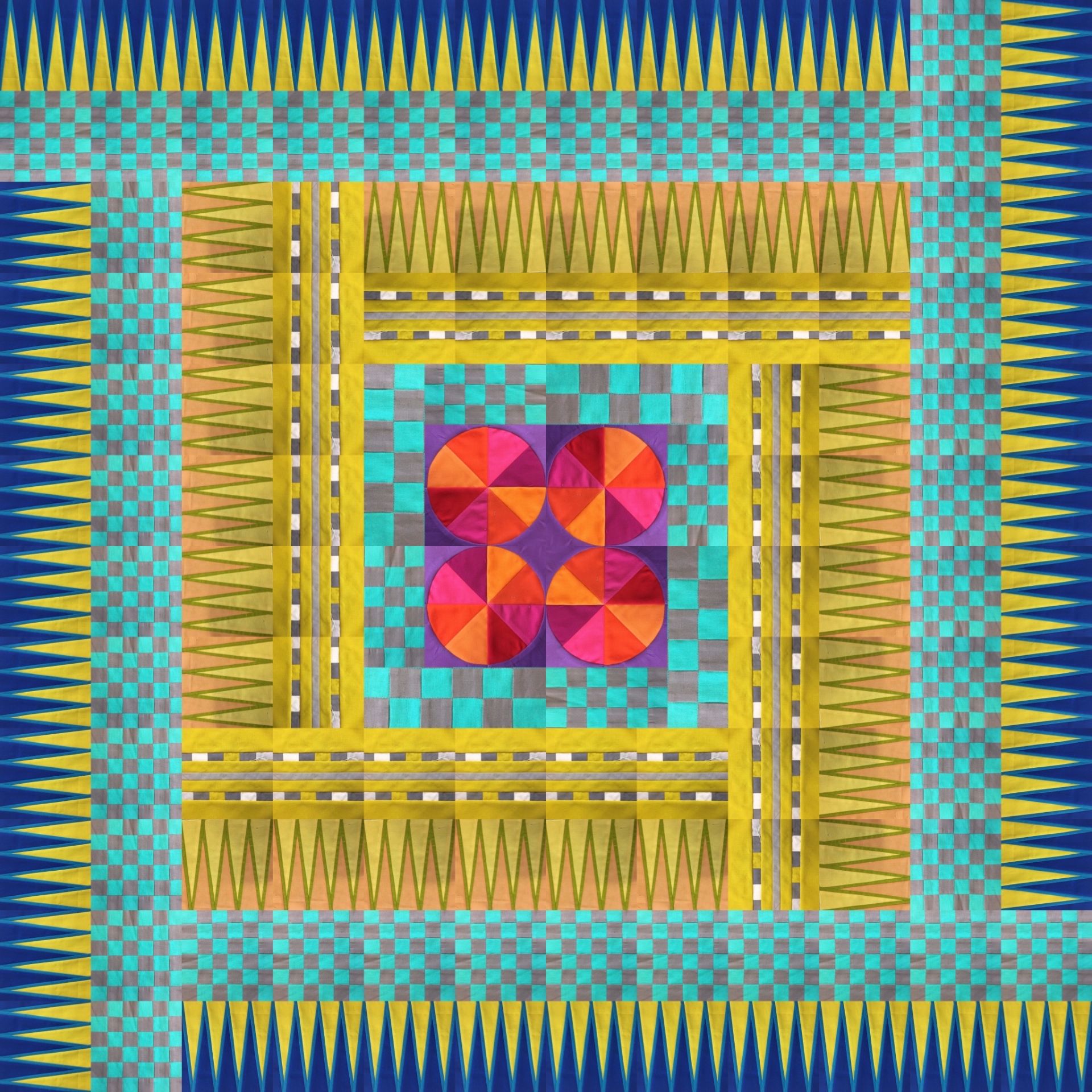 Faculty: Sarah Bond

All Levels

July 31-August 1, 2021


$200

Live Zoom meetings and prerecorded videos
On class days, students should expect to spend the day working on their assignments and attending meetings between 9am and 5pm EST. Students will not be required to spend the majority of their time in front of their screens. Each course is optimized to create a balance of screen time and work time. Each assignment will have written instructions, some video demonstrations, and with at least 1 live meeting each day.
COURSE OVERVIEW • 2 Day Workshop
THIS CLASS IS FULL! CALL 315-255-1553 TO BE PLACED ON A WAITLIST.
Inspiration abounds for quilt makers when searching classic forms to further contemporary or modern designs. Designing in a classic infrastructure with these elements can free up your vision to see something new. Every quilt is a new opportunity to make a new discovery. I love classic forms for many reasons, but one of the most important is that once I've mastered the form, I can leverage that form to learn something new about color, value, or pattern.
We will play with lines, angles, and curves. The elements are designed to be built one upon another to create static or continuous designs in pursuit of your coveted aesthetic. We'll employ the techniques of foundation paper piecing, curve piecing, and traditional piecing to create the individual elements. We will then deploy those classic elements in a modern medallion infrastructure to release your creativity in composition.
Basic technique and tips for success will be presented, along with ideas for using color, pattern and value in conjunction with each form to the best effect. We will explore how to connect these forms, and the kinds of lines and movement that can be created as the forms link together around a central focus. While the finished quilt is the ultimate outcome, it is the lessons and experiences gained in joining together and compiling the elements that are an equally valuable payoff.
MORE ABOUT THIS COURSE
LIVE ZOOM LECTURES & DEMONSTRATIONS • prerecorded demos
INDEPENDENT WORK TIME • happy hour & studio tour • written instructions • All classes are eastern standard time
The workshop begins on Saturday, July 31st, but Sarah invites students to join her Friday, July 30th, for a Zoom Happy Hour & Studio Tour.
FRIDAY NIGHT WELCOME
Begins at 7pm EST
Welcome & Intro (will be recorded and available for students afterwards)
Happy Hour, Meet & Greet
Studio Tour
General Discussion about course structure
SATURDAY July 31st
Color, Value, Pattern: Video 1/2 hr demo, lecture
Quick Strip Piecing: Video 1/2 hr demo & lecture
Foundation Paper Piecing: Video 1/2 hr demo & lecture
Curved Piecing: Video 1/2 hr demo & lecture
Review, Repeat Questions: Afternoon live zoom session. Review techniques
SUNDAY August 1st
1 hour Morning Live Session: Review the previous day's techniques, answer questions, Show and Tell
Individual Working Time: with optional Drop-In Live Session/Group Sew
Combining Elements to Create Pattern & Movement: Video demo, optional Drop-In Live Session/Group Sew.
Medallion Composition: Live session discussion of medallion composition options, construction techniques, quilting option
ABOUT Sarah Bond
Sarah Bond comes from a family of quilt makers stretching back to the early 19th Century. She has been quilting since her early 20s and loves immersing herself in old quilts and quilt books, looking for new ideas. She is obsessed with color and pattern, and while her inspirations are classic and traditional, she renders her own work with a modern or contemporary flair. She loves nothing better than being in a room full of quilters because the creativity that is generated is so intoxicating. Her mission when teaching is to break quilts down to their components to demystify them so students can master those components, bend them to their will, and design their own masterpieces.